All image credits are linked to the images.
It's the end of the week and all you want to do is get far away from the desk you've been sitting behind for five consecutive days. The question pops up in your mind again – what is there to do in Singapore? You've spent your entire life here and yearn for something to do. You've practically visited every place in the country that you can think of and you're desperate for an escape. 
We feel you, which is why we came up with a list of places* that you can visit during the weekend – which isn't in the main town area – and will (hopefully) make you want to get out of the house. These are places you must have heard before, but chances are you've not frequented them recently or for some, not at all!
*These places have been recommended by the editor, who swears by them.
Singapore is known for its diverse array of food, which can make it quite difficult to settle on a place to eat with a group of friends. Here, we've given you a few places to choose from to help you narrow down your choices.
Indulge in a buffet at The Line/Carousel/Hokkaido Sushi Restaurant
Can't decide on a cuisine to dive into? Treat yourself to a buffet at The Line or Carousel. If you love Japanese food, head to the Hokkaido Sushi Restaurant instead for quality food at a reasonable price. There's nothing like rewarding yourself after a long week!
Both the Line and Carousel offer an international spread that is sure to satisfy your tastebuds. From fresh seafood to flavourful Indian dishes to a huge dessert spread, you'll be leaving either restaurant happily stuffed and wanting to come back for more. Meanwhile, the Hokkaido Sushi Restaurant offers mouth-watering, delectable Japanese dishes. Don't be fooled by its name and think that only nigiri and gunkan sushi are available – they serve a great variety of food including yakimono and udon bowls!
The Line (Shangri-La Hotel Singapore)
Address: 22 Orange Grove Road, Lower Lobby, Tower Wing, Singapore 258350
Operating hours:
(Monday to Friday) Buffet: 6am – 10.30am, 12pm – 2.30pm, 6pm – 10pm
(Saturday, Sunday, and Public Holidays) Buffet: 6am – 11am, 12pm – 3pm, 6pm – 10pm
(Monday to À la carte: 6am – 11pm
Website: http://www.shangri-la.com/singapore/shangrila/dining/restaurants/the-line/
Telephone: 6213 4398
Carousel (Royal Plaza on Scotts Singapore)
Address: 25 Scotts Road, Royal Plaza, Singapore 228220
Operating hours: 6.30am – 10am, 12 – 2pm, 3.30pm – 5.30pm, 6.30pm – 9.30pm
Website: http://carouselbuffet.com.sg/carousel/
Telephone: 6219 3780
Hokkaido Sushi Restaurant (M Hotel Singapore)
Address: 81 Anson Road, M Hotel Singapore, Level 9, Singapore 079908
Operating hours: (Monday to Friday) 11.30am – 2pm, 6pm – 10pm
(Saturday and Sunday) 12pm – 3pm, 6pm – 10pm
Website: http://www.hokkaidosushi.com.sg
Telephone: 6221 3075
Pair your meal with a picturesque view at Quayside Isle @ Sentosa Cove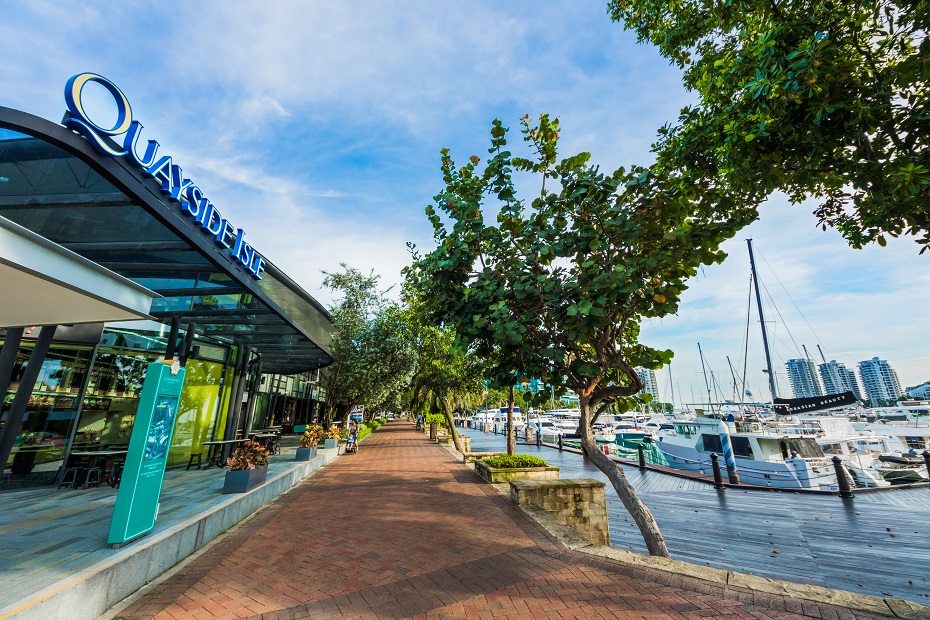 Quayside Isle is like the waterfront Dempsey Hill version of Sentosa. A stretch of food and beverage outlets mainly catering to the residents in the area and guests of neighbouring W Hotel, it is also easily accessible by the general public. From Chinese and Thai to Spanish and Mediterranean cuisines, eat to your heart's content while taking in the beautiful backdrop.
Address: 31 Ocean Way, Sentosa Cove, Singapore 098375
Website: https://www.quaysideisle.com/
Telephone: 6887 3502
Be spoilt for choice at Suntec City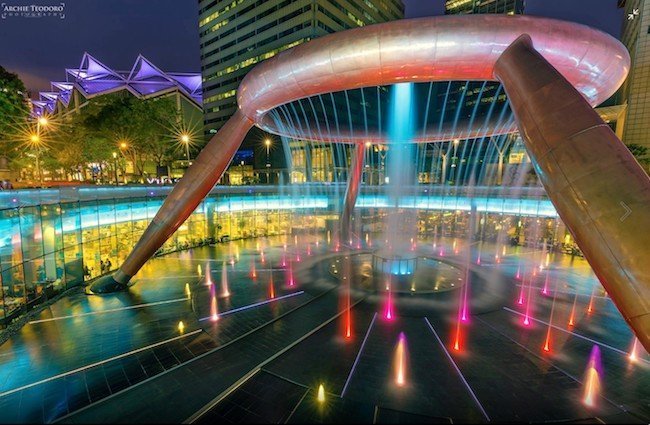 If you want a particular cuisine but can't decide which one – and if a buffet is also not for you – try going to Suntec City instead. The mall's basement in particular has affordable eateries specialising in all sorts of cuisines ranging from, including Italian restaurant Peperoni Pizzeria, which is famed for its XXL sized pizza.
Editor's note: I know, I know. Why Suntec City? There's lots of food all over the mall (and the mall is huge, mind you) and it's a good escape from the town area. After you eat, you can opt to watch a movie, play at the arcade, or stroll along the shops across all towers. If you just want a snack, you can easily find one as well. Suntec City's also great for families as there are toy stores and play areas for children available.
Address: 3 Temasek Blvd, Singapore 038983
Operating hours: 10am – 10pm
Website: https://sunteccity.com.sg/
Telephone: 6266 1502
Have a picnic at Singapore Botanic Gardens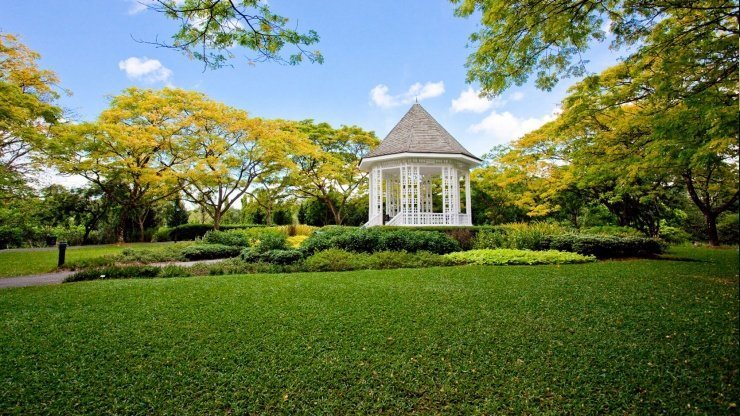 Why not have the freedom to prepare the food that you want instead? Take a break from the city life and immerse yourself in nature. Opt to have a picnic on the grass alongside the garden's greenery and animals (you can spot swans if you're lucky!) or sit in the shade in the pavilions to avoid the glares of the sun.
Address: 1 Cluny Rd, Singapore 259569
Operating hours: 5am – 12am (for attraction hours, click here)
Website: https://www.nparks.gov.sg/gardens-parks-and-nature/singapore-botanic-gardens
Telephone: 1800 471 7300
Let Eatigo decide for you

Places to go for activities:
If you want to do more than just relax during the weekend, opt for an adventure-filled one instead at one or more of these places. Whether you're strolling while admiring flora and fauna or sweating buckets while working out, you're guaranteed to have a great time.
Lose yourself in the world of flora at Gardens by the Bay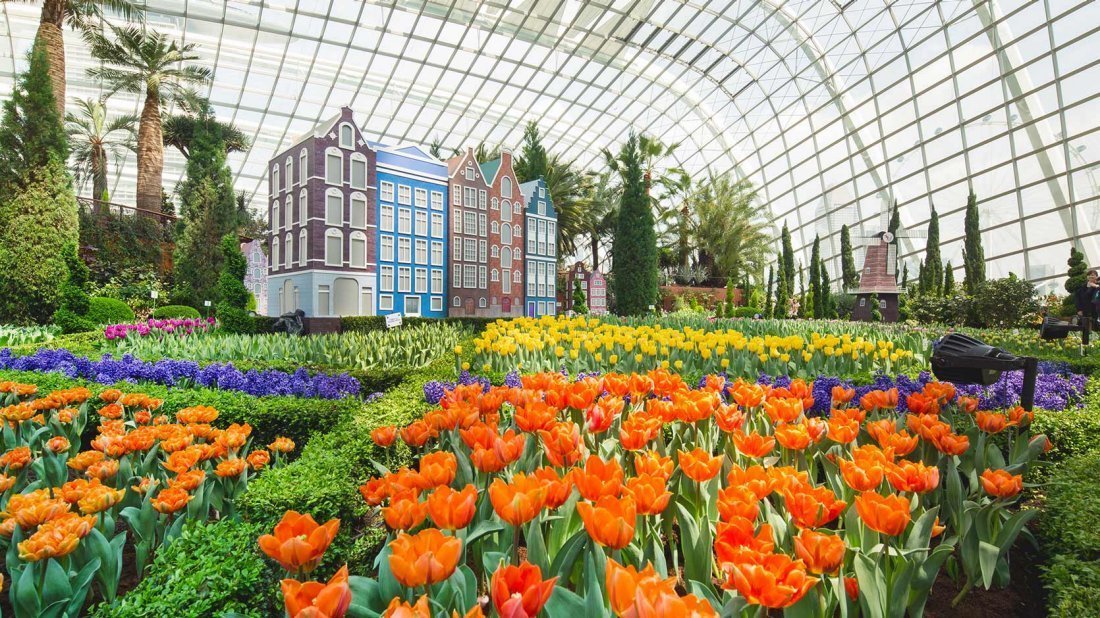 With different exhibitions held at Gardens by the Bay throughout the year, there's always something new in store for you. Escape Singapore's heat and humidity by taking a step into the cooled domes and marvel at the colourful diversity of plants.
Address: 18 Marina Gardens Drive, Singapore 018953
Operating hours: (Cooled conservatories, Floral Fantasy, OCBC Skyway) 9am – 9pm
(Far East Organisation Children's Garden) Tuesdays – Fridays, 10am – 7pm
(Outdoor gardens) 5am – 2am
Website: https://www.gardensbythebay.com.sg/
Telephone: 6420 6848
Visit animals from all over the world at the Singapore Zoo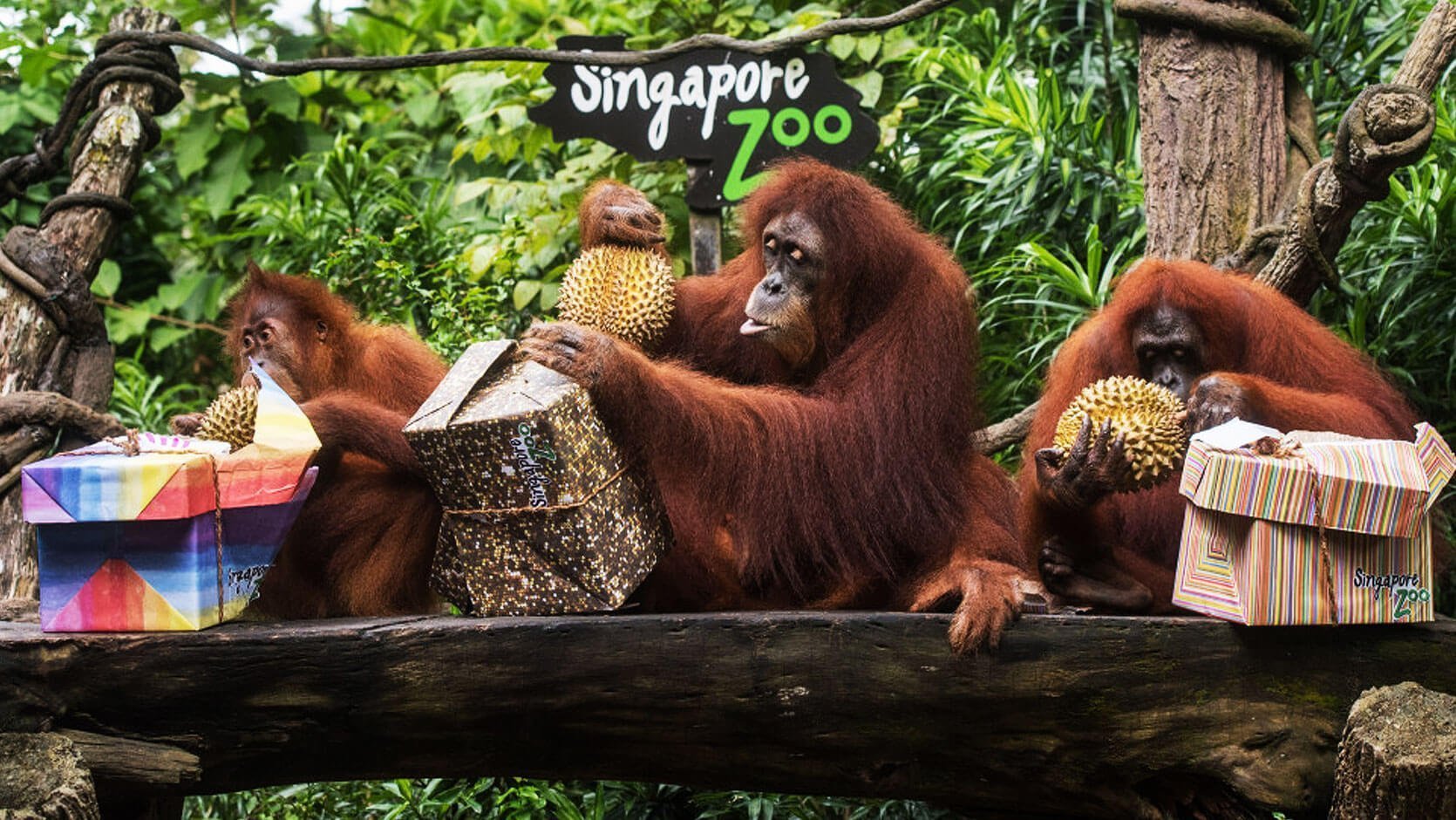 Did you know that the Singapore Zoo has a new addition to their family? If you didn't, head over there right now! In April, fossas, Madagascar's biggest predators, were brought to the zoo in 2018 and featured in a new exhibition earlier this year. Apart from marvelling at the pair of fossas here, stroll along the different animal habitats in the zoo and watch them at work at the various animals shows held throughout the day. You can even feed some of them if the time and weather permits!
PS: After visiting the Singapore Zoo, swing by Jurong Bird Park to enjoy free entry for local residents from 6 September to 15 September 2019.
Address: 80 Mandai Lake Road, Singapore 729826
Operating hours: 8.30am – 6pm (last admission at 5.30pm)
Website: https://www.wrs.com.sg/en/singapore-zoo.html
Telephone: 6269 3411
View the Art Science Museum's many exhibitions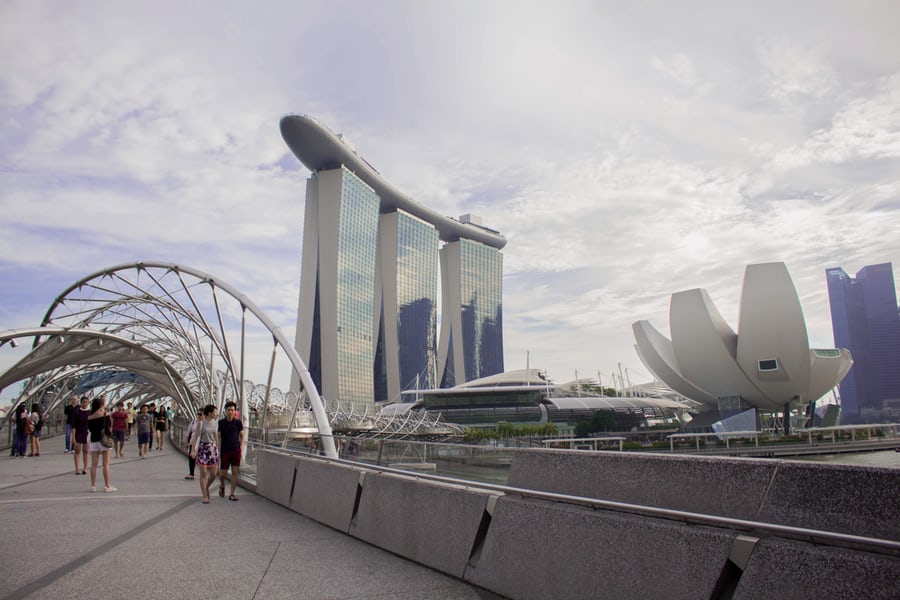 Located along The Shoppes at Marina Bay Sands, the Art Science Museum hosts both permanent and temporary exhibitions. Its past collections include that by prominent artists such as M. C. Escher, as well as NASA and Marvel. This is the perfect place to spend your afternoon if you love museums.
Address: 6 Bayfront Ave, Singapore 018974
Operating hours: 10am – 7pm (last admission at 6pm)
Have fun while exercising at SuperPark
What better way to spend your weekend than having fun at an indoor activity park? Invite a friend or two and enjoy the many activities that the park offers! Bounce on a trampoline, sit on a tube slide, or ride along a pedal car track – whatever it is, you're bound to have a good time.
Address: 3 Temasek Boulevard, Suntec City Mall, #02-477 (North Wing), Singapore 038983
Operating hours: (Monday – Friday) 10am – 9pm
(Saturday, Sunday, Public Holidays and School Holidays) 9am – 9pm
Website: https://www.superpark.com.sg/
Telephone: 6208 8322
Reminisce your childhood in an arcade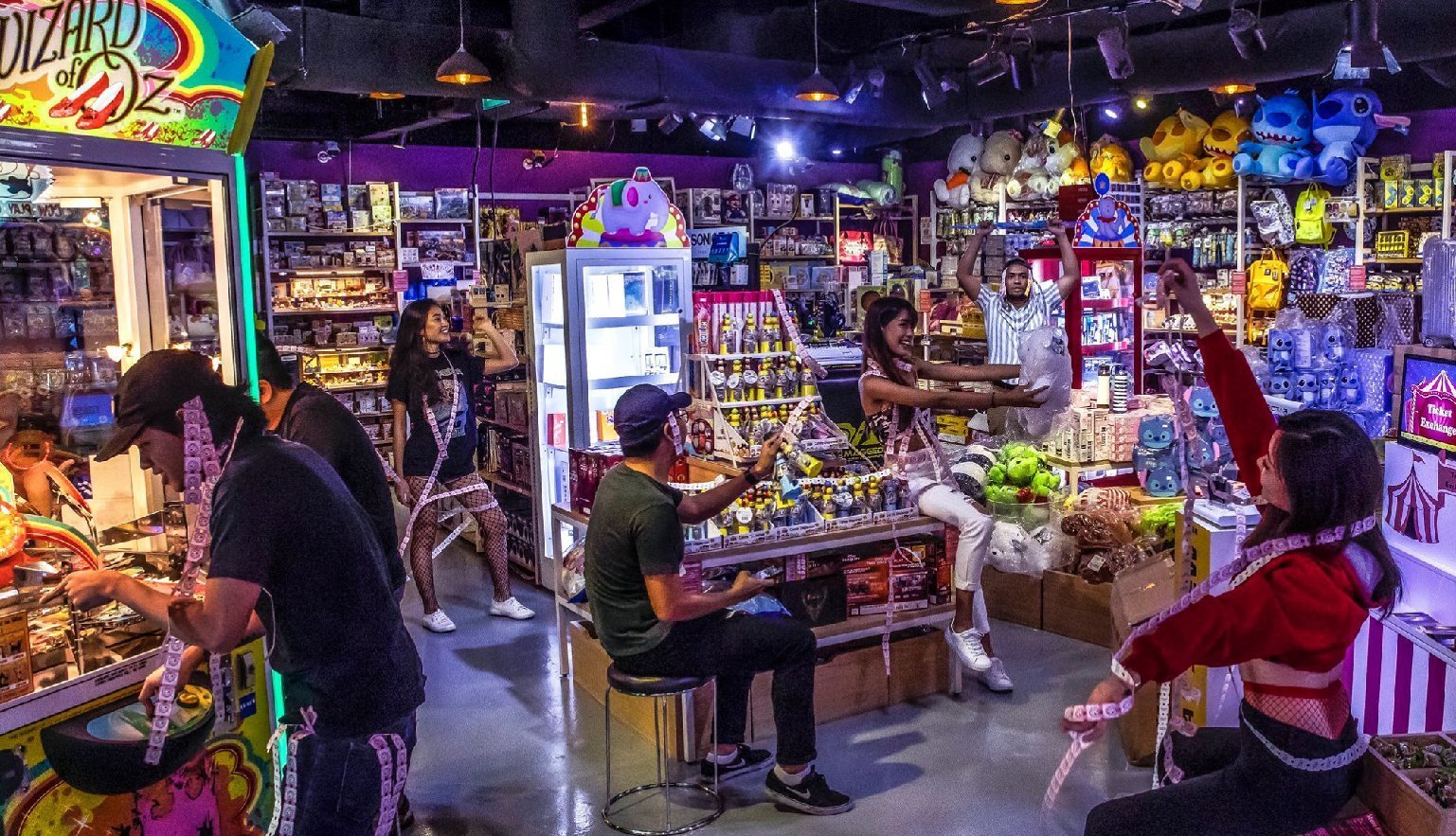 Relive the good old days by racing with your friends in Daytona or playing together to defeat the enemies in Time Crisis. Alternatively, play to win tickets at arcades such as Cow Play Cow Moo and redeem lots of prizes! PS: Depending on how many tickets you collect, you can even redeem a drone or a camera!