Hospitality and Tourism industry is one of the busiest industries around the world with stringent service quality standards, where customers have high expectations. We visited our three clients (Pan Pacific, Oakwood Premier and Carlton Hotel) in the industry, who have adopted our wireless Call for Service system. This solution works by eliminating the need for customers to hail for service staffs directly — as staffs would be notified through a watch and/or display receiver to provide faster service to customers.
Here are some of the key benefits and takeaways we have observed at their hotels:
1. Pan Pacific Singapore
The Pan Pacific Hotels is one of Asia's most established hotel and property company. Known for their exceptional guest service, our Call for Service system are used at three areas – the Main Atrium, Pacific Marketplace (Pan Pacific's Gourmet grocery cafe), as well as its Poolside. SIGNALGRYD's wireless system helps Pan Pacific Hotel to deliver better and efficient service to their guests.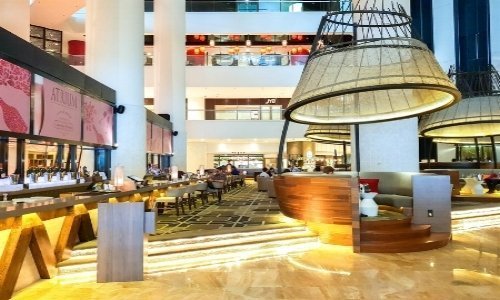 Main Atrium (Lobby)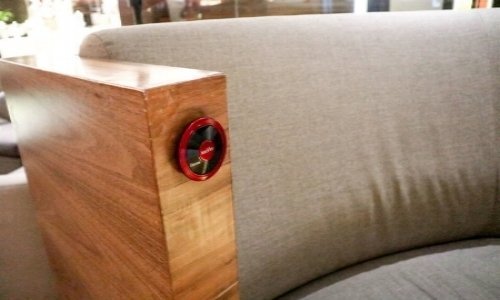 The Main Atrium, is a large dining and bar area where our service buttons are fixed conveniently onto the side of the sofa throughout the atrium. This way, guests can easily reach out for service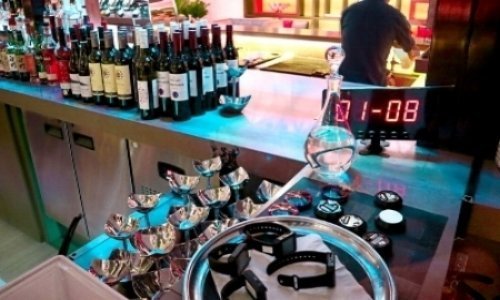 One of our display system situated at the main atrium bar area. When a service button is pressed, the display receiver will reflect the table number (from which the button is located at)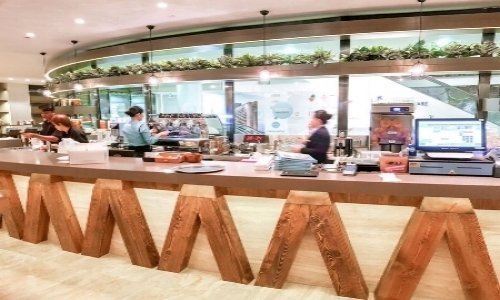 Pacific Marketplace, a gourmet grocery and cafe of Pan Pacific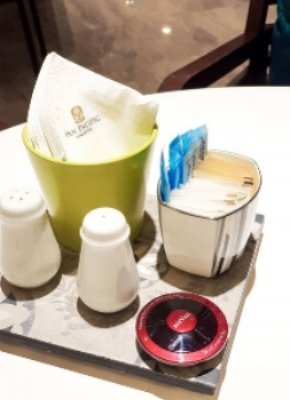 At the Pacific Market, our service buttons can be found situated on top of all table tiles of this restaurant. In a hotel setting, guest wants their privacy when dining and the service button is an excellent way to attend to guest when required.
After taking our seats and deciding on what to order, we pushed the service button on our table to be attended to. Within seconds of pressing it, a service staff is already heading our way to attend to our request.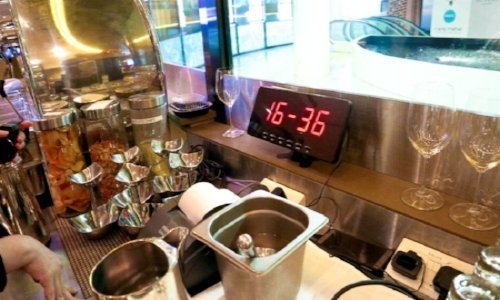 Our display system are placed behind the counters and staffs can immediately refer to it to see which table is calling for service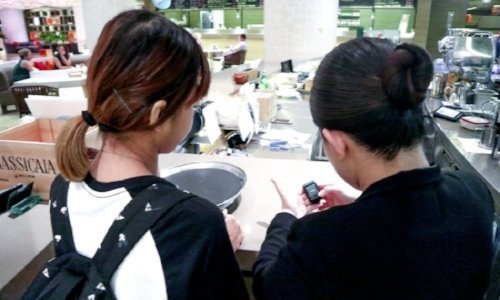 Intern Clara, training one of Pan Pacific's staff
Pan Pacific is using SIGNALGRYD Call for Service's mobile bundle where staffs can easily get notified through watch receivers. These watch receivers are lightweight and, just like a normal watch, is worn on the wrist. It will notify service staffs which table is calling for service with a beep and/or vibration.
As a hospitality provider, it is crucial to always provide exceptional guest service. Pan Pacific leverages on SIGNALGRYD's wireless Call for Service system which makes it easier and quicker for the job to be done. With just a touch of a button, service staffs are able to attend to guests' requests in a fast and efficient manner. In addition, it brings convenience and service excellence to guest and customers as they dine in comfort.
Overall, the Pan Pacific Hotel's Pacific Marketplace, is a perfect place to spend an afternoon at. It serves gourmet coffees, pastries and there's a variety of unique local fares to choose from. Be it having a casual or business meeting, or to simply get work done. It is an ideal place for you to bask in and enjoy its cosy and comfortable atmosphere.
2. Oakwood Premier OUE Singapore
Oakwood Premier OUE Singapore, a luxe modern 5-star service apartment situated at Singapore's Central Business District. On the 7th floor, is the outdoor infinity pool where our wireless Call for Service system is used. The place has an amazing infinity urban view where guest can chill out, soak and relax at, day or night. Our Call for Service system is used right at the poolside of the hotel.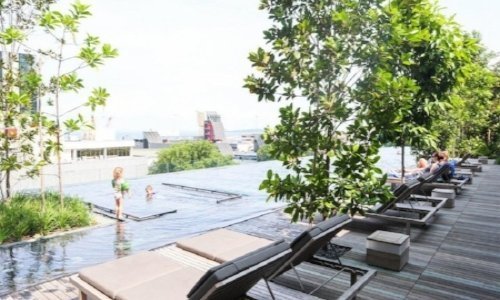 Some guests using the pool and relaxing on the benches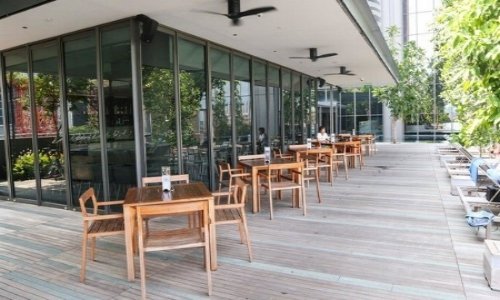 There are also tables and chairs by the pool for guest who wishes to dine outdoors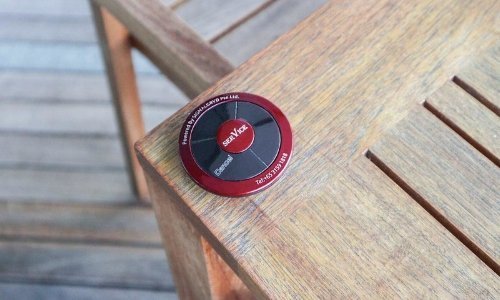 Our service buttons can be found positioned at the corner of the tables
Right beside the Infinity Pool is the poolside cafe, where you can find our Call for Service buttons at the corners of all the tables. At Oakwood Premier, it's bar and restaurants are located indoors, however guests have the freedom to dine outdoor to enjoy its amazing infinity view. With the Bar located indoors, our service buttons came in handy as we settled to dine outdoors by the pool.
After choosing our food items, we pushed the service button at the corner of our table to notify service staffs we were ready to make an order. Despite being outdoor and out of sight from them, our request was sent as an alert to  staffs via a display system, prompting that our table required assistance. Moments later, we could see that a staff was heading our way to tend to us.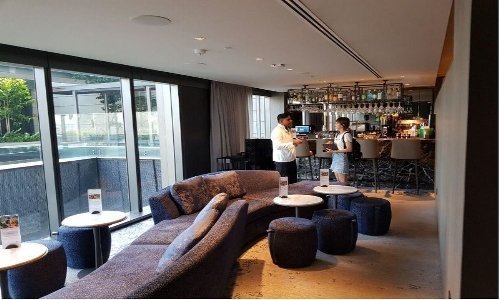 At the cosy corner of the Bar, our intern learned about Oakwood's services and offerings from their staff
At Oakwood, its restaurant and dining area are located at different areas. The wireless Call for Service system is a great way to eliminate efficiencies which ensures that customers will still be attended to even when no staffs are stationed near the outdoor pool. It also provides convenience to guests after their swim as they could still notify hotel staffs and order for food. Similarly, the Call for Service system also benefits other outdoor or large dining area with blind corners where guest will be well taken care of no matter where they are seated at.
In summary, Oakwood Premier Hotel is the perfect destination for a getaway. Besides being situated conveniently within central Singapore, it is reachable within 5 minutes walk from Tanjong Pagar MRT station. Its Infinity Pool offers an amazing view of our green urban city.
3. Carlton Hotel Singapore
A luxurious 4.5 star hotel, Carlton Hotel is located conveniently in the middle of Singapore. SIGNALGRYD's wireless Call for Service system is also used at their Outdoor Swimming Pool, where you can find our service buttons placed on all deck tables, including the small tables beside the sunbathing chairs. Here, guests can chill and relax under the comfort of the sun at this large spacious pool area while being attended to.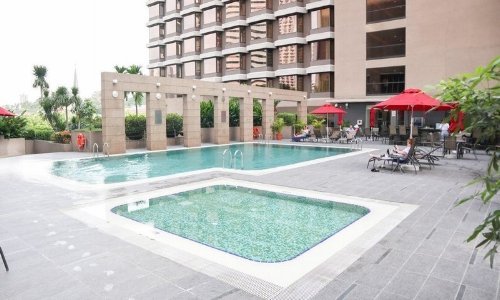 Also, at the outdoor pool, is a bar where guests can enjoy finger food and drinks to go along their swim and relaxation. We had truffle fries along with a cup of tea and sat by the pool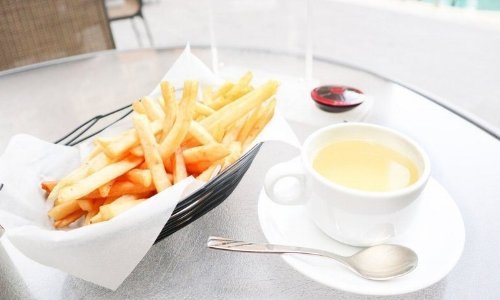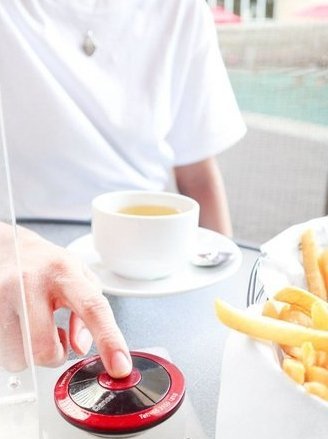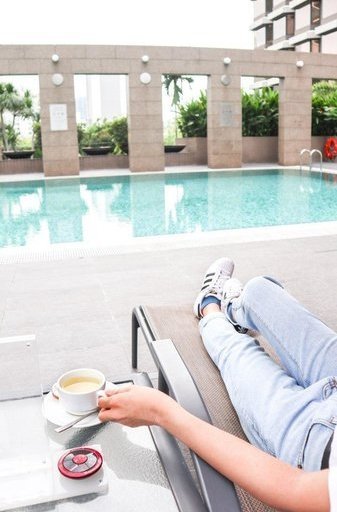 Similar to Oakwood Premier OUE hotel, Carlton Hotel also leverage on our wireless system at their outdoor swimming pool. With service buttons placed on tables, it brings convenience to guest whenever they require help of service staffs regardless where they are seated — even in a open area. As we unwind at the sun beds, hailing for service is easy and convenient. (even when we were out sight!). We could easily get the attention of staffs by pushing the service button and be attended to in a quick and efficient manner.
Overall, we had a pleasant experience at the poolside of Carlton Hotel. Beside relaxing and luxuriating by the pool, we learnt how our service request system has helped the hotel create and facilitate an excellent dining atmosphere. With the wireless solution in place, the communication process of staffs and customers greatly improved. Staffs are better aware when their assistance are needed by guests upon being called (with the service button). This also provides them the opportunity to offer quick and efficient service upon request; which in boosts the customer service of the company and increases customer satisfaction.
Summary
Today, paging services and solutions have been incorporated into the processes of many businesses and organisations in different ways, particularly those in the services sector.
In the competitive hospitality industry, where hotels constantly strives to provide higher service standards, the table calling solution is useful for organisations to achieve and maintain a smooth flow of service to fulfill customers' expectations. These paging systems offers hotels the opportunity to improve internal communications among staff when used internally. Organisations can expect to streamline its operations and achieve service optimization.
As these paging systems operate wirelessly and internet connection rendered needless, users do not have to worry about connection problems. The system is also easy to use and set-up.
With service being the most crucial part of the business in the service sector, providing exceptional customer service is not only paramount, but essential in today's times. It is no doubt that wireless request systems have changed the way businesses communicate with their guests.
Still unsure how our system works? Check http://signalgryd.com/wireless-paging-solutions/service-calling-system to find out more.
Interested in getting our system? Contact us at [email protected] or +65 3159 1818. We always like that.