Wireless Paging Systems are common tools used across different industries to increase operational efficiency and streamline manpower workflow. With the increasing popularity of wireless paging systems, here's everything you need to know about them.
1. What are wireless paging systems?
Paging systems are simple. There are 2 main components. They are the transmitting and receiving devices; an accompanying signal range extender is optional. Transmitters come in the form of numeric keypads or a 1-key button unit. On the other hand, receiving devices – also known as pagers – are typically beepers or buzzers. Presently, modern paging systems, including the ones at SIGNALGRYD, are used either within staff or between customers and staff to provide efficient communication across a range of industries.
2. How do wireless paging systems work?
Wireless paging systems operate through radio frequency – no internet connection is required! These systems involve at least one radio transmitter that broadcasts signals over a specific frequency. All of the pagers, which have built-in receivers, are tuned to recognise a particular signal. As long as the pagers are powered on, they will be able to continue receiving signals from the transmitter.
All of our receiving devices can either be recharged, or would require a direct power input to function (eg. an overhead display panel). In the case of our customer paging system, pagers can be recharged using a charging port provided. SIGNALGRYD's charging bases can charge up to 10-25 pagers at a time; once fully charged, our pagers can last for up to 2 days. However, as most pagers are placed at the charging port immediately after use, battery life is typically not a concern and the pagers can be used immediately without any delay.
3. What is the operating distance of wireless paging systems? 
Transmitting distances vary with each model, with the average being 400m and the furthest being 800m. To determine these distances, tests are done without any form of interference or obstructions. In most instances, real-world usage will vary up to between 60 to 150m. Structures made of concrete, glass and metal can also interfere with the transmitted signals and decrease the working distance of the pagers. However, the efficiency of transmission will remain unaffected. Should the working range be insufficient, range extenders are available to help increase the range of the system.
4. Are wireless paging systems safe to use?
Paging systems have been around for a very long time. You may not have noticed it but you are probably already using one in your everyday life! For instance, some fan remotes use simple basic radio frequency to switch on/off the fans. Car key remotes work the same way. 
As for SIGNALGRYD, we are a registered license dealer (DA106967) with the Infocomm Media Development Authority (IMDA); all of our products are registered and certified with the IMDA.
5. What types of wireless paging systems are available?
In SIGNALGRYD, we provide the following systems: Customer Paging System, Service Request System, and Queue Management. All of our paging solutions are applicable to a wide range of industries. At its core, it is simply a communication system to improve efficiency and productivity. Talk to us if you would like to learn how our solutions can help your industry, or check out our page here!
Below are the various paging systems that we offer. For easiest relatability, we like to use the F&B industry as an example. 
As our pagers are portable, the Customer Paging System comes in handy when customers are waiting for their food. Instead of having to stay at a particular spot, they are able to walk around to pass the time – they can even run a quick errand or two! Once their food is ready, an employee will notify them by activating the pager (which buzzes discreetly). Allowing your customers to collect their own food not only presents them with a sense of autonomy and empowerment, but also allows for better staff labour allocation.
How it works: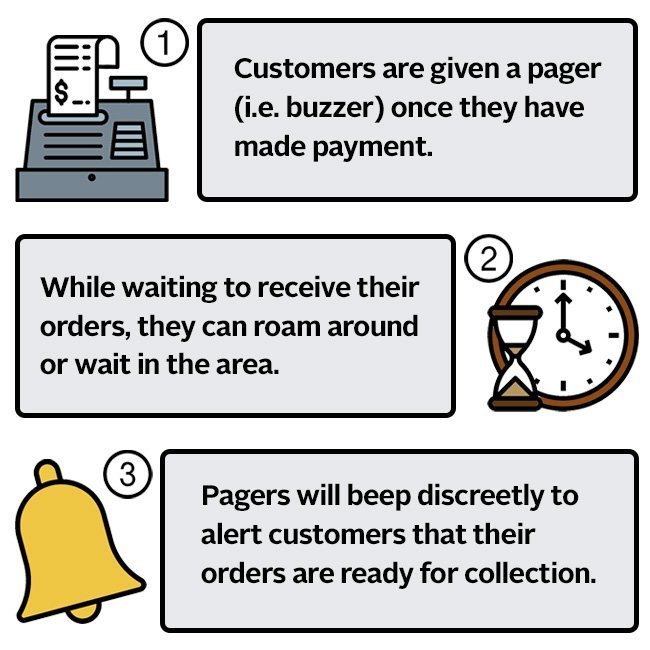 A staff paging system or a guest paging system? Why not both? The service request system is applicable for use 1. Within employees, and 2. Between customers and employees. A simple and convenient set up, all that is needed to do to page the receiving party is the push of a button. Using the service calling buttons fitted on a wall or table, users will be notified via overhead displays or watch receivers. Instead of having to physically alert a staff member, using service request buttons prove to be a much easier and useful alternative.
How it works: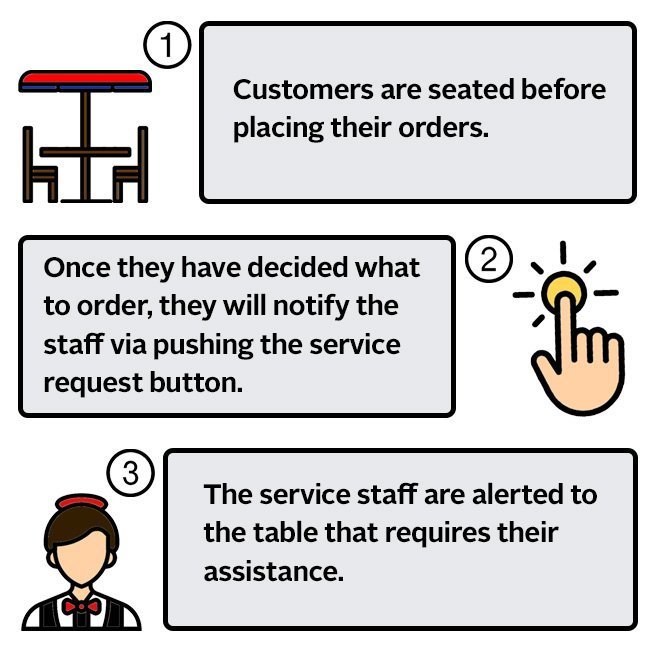 The queue management system allows customers to roam around the vicinity while waiting to be seated instead of having to stand in a single line for half an hour or even longer. SIGNALGRYD offers three types of queue management paging solutions: Linear Queue System, Queue Number Calling, and Ticketed Queue System. By creating a systematic queue flow, service efficiency is enhanced.
How it works: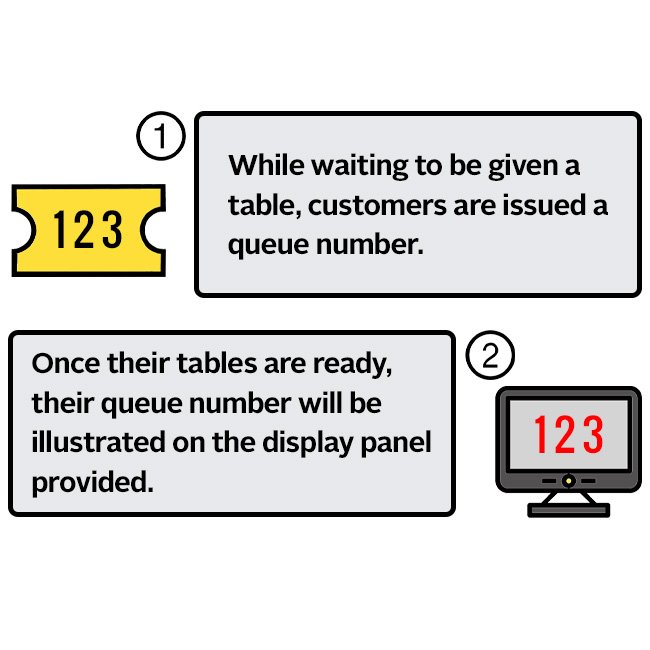 6. Where can wireless paging systems be used?
Wireless paging systems can be used across various industries, namely construction, food and beverage, healthcare, and hotels and hospitality. Different types of paging systems cater to different industries, but several types can be combined to be used within the same industry as well. 
An example of a local brand using SIGNALGRYD's wireless paging system is Ya Kun, a Singaporean grown food and beverage chain that is reminiscent of the traditional coffeeshop. As the majority of Ya Kun's staff comprises the elderly, Ya Kun needed to find a way to reduce the physical strain on them. It finally settled on using SIGNALGRYD's Customer Paging System to encourage self-service among its patrons.
7. How much do wireless paging systems cost?
There are a variety of factors that would influence the price such as the system that's best suited for a business, the quantity required, as well as if any addons are needed.. In most cases, pricing could range from as low as $400 for a basic set to $2,000. It may also reach up to $4,000 – $6,000. 
Government grants incentives were previously available to offset a portion of any purchase made, but they have since ceased. We are working hard to hopefully be able to get on board the program – though we're not sure when, or if it'd still be even possible. In any case, we are confident in the pricing offered, and we back ourselves with our 10% Price Beat Guarantee. 
8. What are some of the benefits of using a wireless paging system?
Some benefits of using a wireless paging system include saving time and energy and enhancing business efficiency. For example, using the service request systems allows you to focus your attention and effort on demanding tasks at hand until your assistance to a customer or colleague is required. You may also be surprised to know that you'll be able to save costs by using a wireless paging system instead of hiring additional staff. Although the initial cost may be high, it is a one time fixed payment as compared to having to pay for your employees' salaries monthly. SIGNALGRYD has a two-year warranty for its products too! Read here for more benefits of using a wireless paging system.