August 9th, a day marked on every Singaporean's calendar, with many deciding to spend the evening watching the National Day Parade either in person or on TV. However, the spectacular fireworks display, is best enjoyed through the lens of our own eyes.
Here are a few bars and restaurants where you can spend the evening having a good National Day, topped off with a killer view of the show.
1. Kinki
Kinki is part of a recent wave of urban hip bars with a hint of Japanese culture. Gathering a crowd of young partygoers. It also played host to several Eatmepoptart events. Situated in the middle of Marina Bay, on the second and third floors of Customs House, it is impossible for diners to miss the fireworks display during this national day.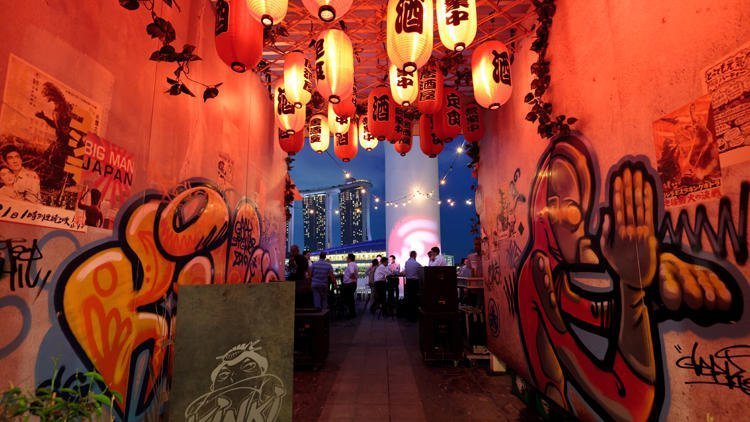 Decorated with Japanese lanterns, this open-air terrace bar is directly opposite the floating platform. They have a special night planned for August 9, so head over to their Facebook page to check out details about the rooftop party with fireworks to boot. If partying is not for you, fret not! They have a National Day exclusive promotion with 10% off their bottomless brunch with a choice of free flow Sake, Shochu, Beer or Prosecco at $84++ per person (U.P $93++) only if you make a reservation via Chope with the promo code 10BRUNCH.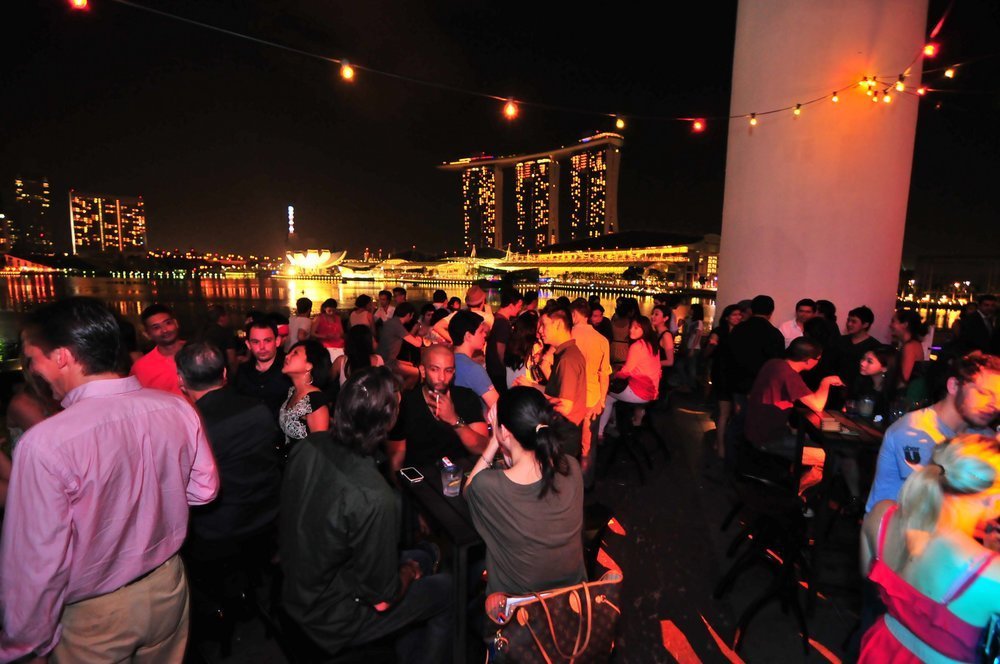 Where to: 70 Collyer Quay #02-02 Customs House Singapore (049323)
Call to reserve: +65 (0) 6533 3471
Operating hours: 18:00 till late
---
2. Lighthouse Rooftop Bar @ Fullerton Hotel
Many may be familiar with Fullerton Bay Hotel's Lantern Rooftop Bar, but have you heard of their Lighthouse Rooftop Bar? Located at the top of the hotel, guests at this cosy rooftop bar can enjoy a full panoramic view of Marina Bay. There are cocktail tables available for guests to enjoy a drink and the fireworks, accompanied by house music to create an unforgettable night. A cover charge of $53 nett per person is required, which is inclusive of two glasses of sparkling wines/beers/signature cocktails/house pour spirits/soft drinks/juices and a National Day Platter specially curated to celebrate Singapore's birthday with you.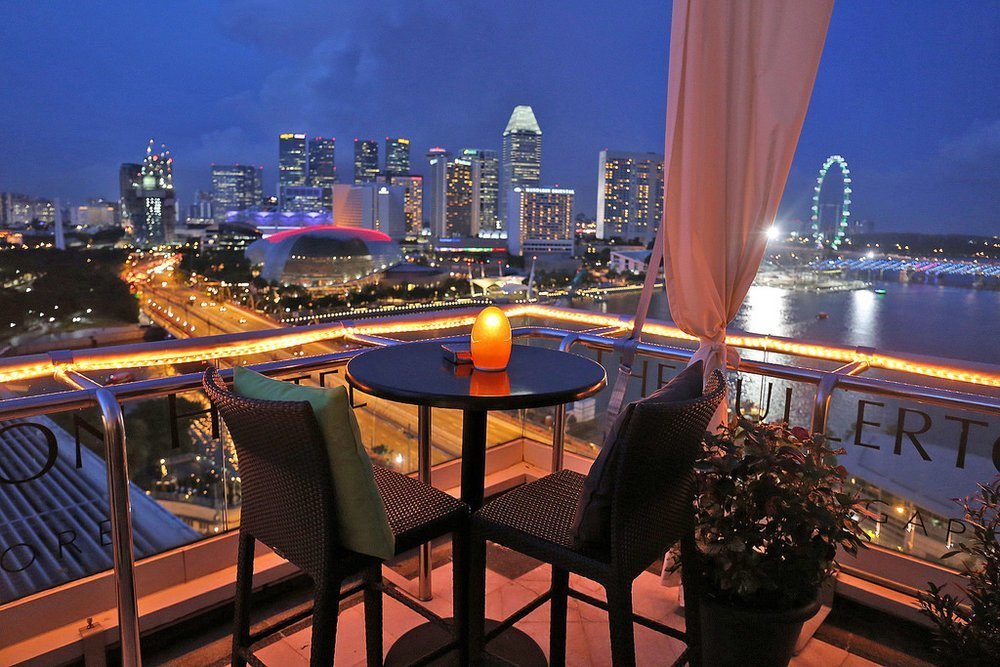 Where to: THE FULLERTON BAY HOTEL SINGAPORE
80 Collyer Quay Singapore (049326)
Call to reserve: +65 6333 8388
Operating hours: 10:00 till 1:00-2:00
---
3. LeveL 33
Known for their unique house-brewed craft beers, LeveL 33 is where craft and tradition meet to create an authentic, contemporary dining experience. You can walk in with a $33+ cover charge which includes a house wine/beer and terrace seating. The food offerings here include a $55+ dinner set. The skyline view here is fully unobstructed, so fireworks can be seen in all their glory. Be sure to cover your ears if the whirling of the helicopters' blades are too noisy for you to handle as they whirl closely past you.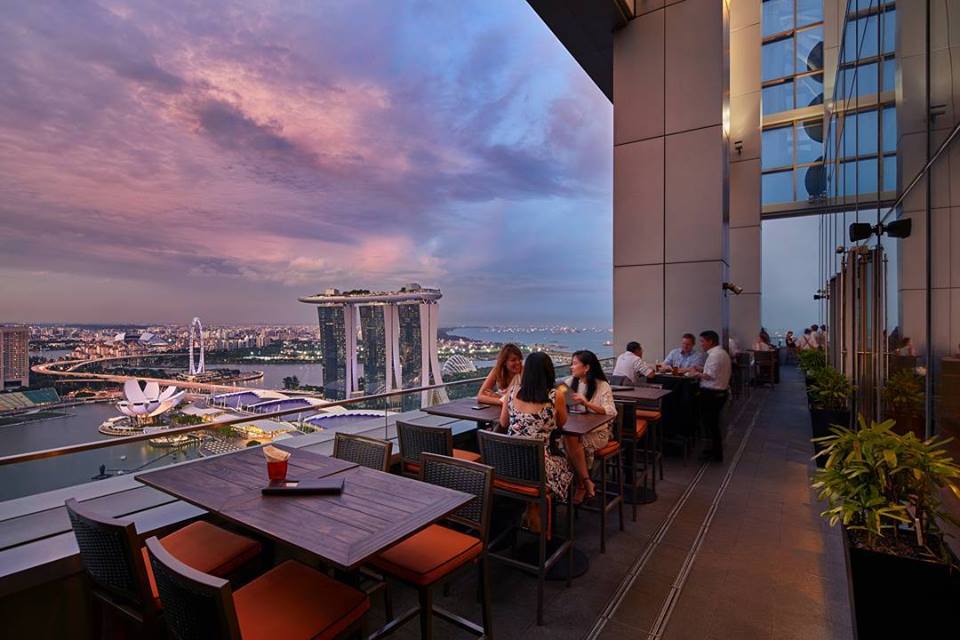 Alternatively, if you prefer a quieter and private experience, you can make a reservation in advance for indoor seating, so that you can admire the beauty of the fireworks without having to endure the heat and deafening booms.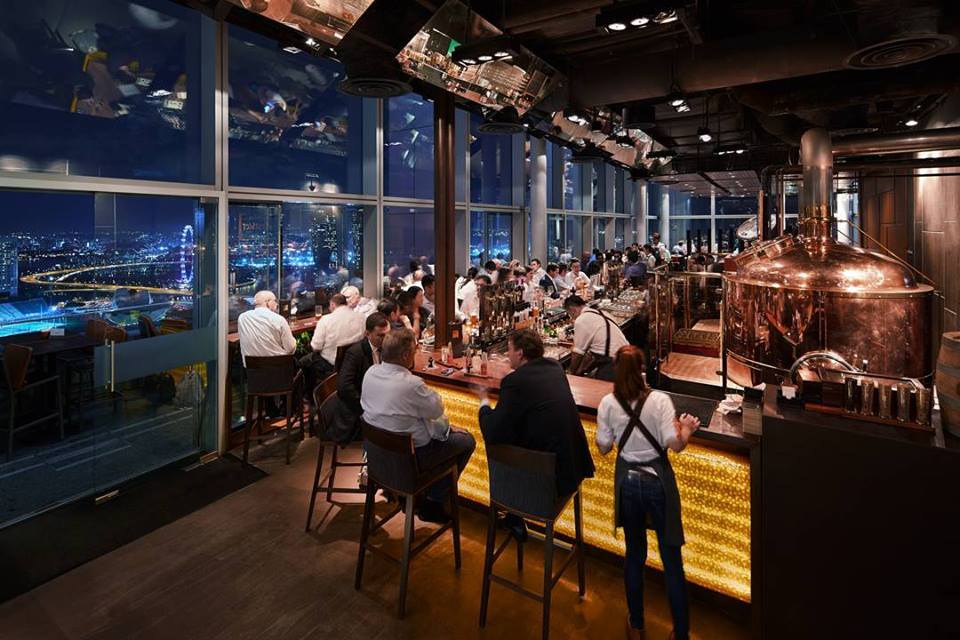 Where to: 8 Marina Boulevard #33-01, Marina Bay Financial Centre Tower 1 (1.42 km)
Singapore (018981)
Call to reserve: +65 6834 3133
Operating hours: 12:00 till 24:00
---
4. Bar Rouge
Elegant and futuristic, this Shanghai nightlife icon makes its global debut on the 71st storey of Swissotel The Stamford. Bringing a history of good times and Chinese flair to Singapore, Bar Rogue has an aura that will wow your senses. This bar is aesthetically lit with warm hues of neon lights. DISCO LAH! Ft Aurora and Kane Ian will be spinning on August 9th, providing a great party in a unique but indisputably beautiful bar. A relatively new must-see spot with a great view of the bay and a great party night promised, what more could you ask for?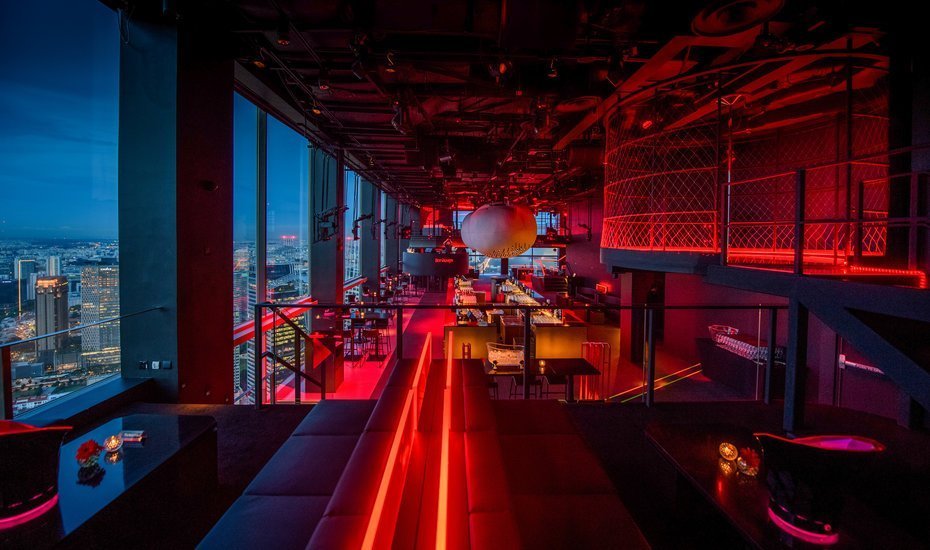 Where to: 2 Stamford Road, Floor 71 (0.29 km)
Equinox Complex, Swissotel The Stamford
Singapore (178882)
Call to reserve: 9177 7307
Operating hours: 17:00 till late
---
5. Orgo Bar at Esplanade
If you have a phobia of heights, yet still want to appreciate the beauty of the fireworks, Orgo is the place to go to. Influenced by organic chemistry, this bar names itself Orgo, highlighting that they concoct cocktails with absolute precision and design, just like the nature of science.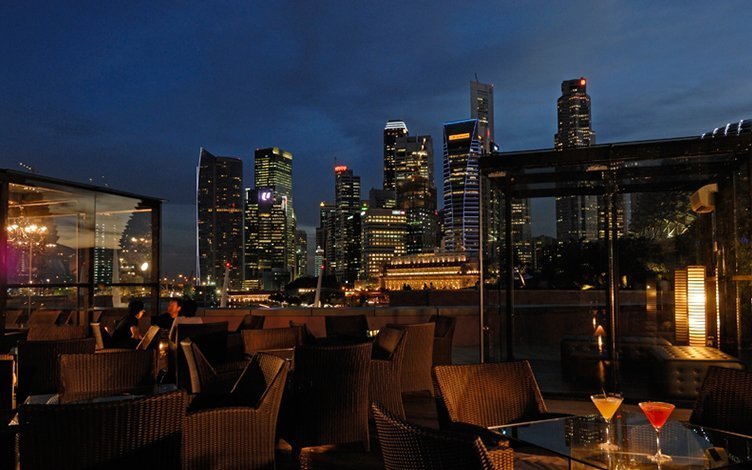 The bar has a cosy and romantic look to it, with outdoor seating by the water and intimate lighting. While the bar is low-rise compared to the other recommendations we have for you, but its prime location means you can catch the fireworks display clearly, all while enjoying one-of-a-kind cocktails that were handcrafted for you.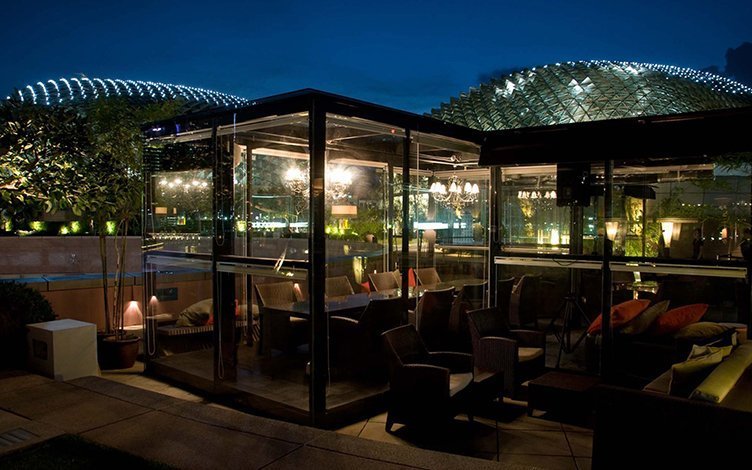 Where to: 8 Raffles Avenue, #04-01, Esplanade-Theaters on the Bay, Singapore (039802)
Call to reserve: +65 6336 9366
Operating hours: 18:00-2:00
---
6. Stellar @ 1-Altitude
Stellar @ 1-Altitude is a prominent figure accompanied with the dazzling Singapore skyline along the Marina Bay area. It is one of the tallest fine dining restaurants in Singapore, offering a 360 degree panoramic view of the city. The restaurant exudes an aura of prestige, making it a prime destination for a good night out.
At Stellar, the table service provided is professional and caring. Waiter calling ceases, with attentive table service being provided throughout the time you spend at the restaurant. 6-course meals are available for approximately $140++ and a 8 course meal at $190++. Great food and service leaves customers satisfied. Both meals include a unique dessert specially curated for Singapore's birthday – Pea Flower Ice Kachang with Tanglin Gin. Just a heads up, the window seats are limited and are taken up pretty quickly, so remember to make a reservation early to avoid disappointment!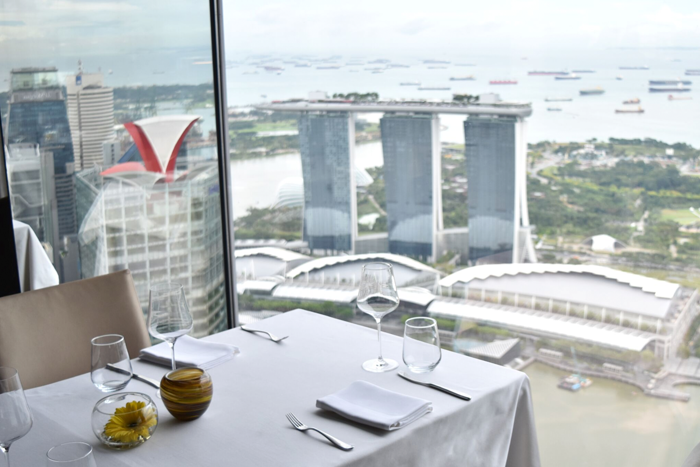 Alternatively, you could also check out their alfresco rooftop bar – Gallery & Bar, for a better view at the price of $250++ per pax.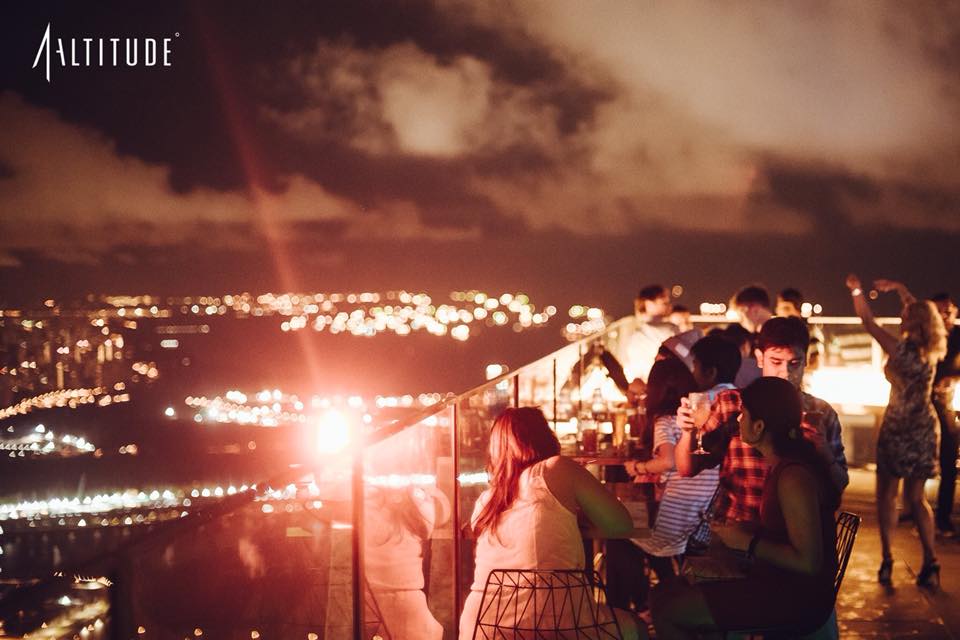 Where to: 1 Raffles Place, Level 62 for Stellar, Level 63 for Gallery & Bar (1.08 km)
Singapore (048616)
Call to reserve: +65 6438 0410
Operating hours: 18:00 till late
---
7) Cé la vi
Now here's a spot for those that really want to revel in the National Day spirit all day and have an unforgettable experience: This National Day, join the party at Singapore's most famous rooftop — that is, Ce La Vi lounge at Marina Bay Sands. Enjoy Afro-Latin and soulful house bops, Singapore-inspired BBQ and bites, and fun games for the whole family starting from 12 noon, and stay all day to catch the fireworks in what's sure to be a red and white crowd. With Marina Bay Sands being an iconic location for locals and tourists alike, it would be smart to make reservations now! A cover charge of $48 at the door gets you a complimentary premium pour, but if you're among the first 150 early birds, you can enjoy a discounted cover charge of $28 instead!


Where to: Marina Bay Sands, Tower 3, 1 Bayfront Avenue (1.09 km)
Singapore (018971)
Call to reserve: +65 65082188
Operating hours: 12:00 till 22:00
---
Disclaimer: All images are taken from their respective companies' websites.