Bored of the usual food places you've visited to settle your hungry tummy? Here is a collated list of uncommon and extraordinary dining options to ensure a new and offbeat experience.
1. Airbnb Experiences Singapore
Unlike the usual Airbnb for homestays, Airbnb Experiences is a platform for guests to enjoy a variety of unique local experiences. With prices ranging from only SGD48 to SGD99, you could try interesting food experiences we have picked out for you below.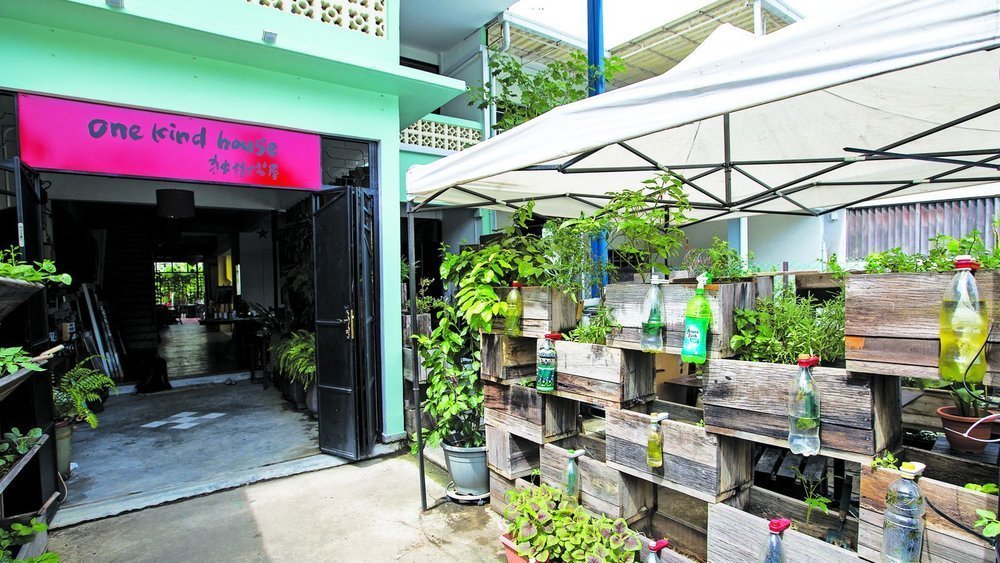 a. One Kind House hosted by Arlette
One Kind House is a modern day kampong located in Telok Kurau. Cooking class revolves around traditional local recipes but with a twist. While the host uses 40% of her homegrown crops for cooking, dishes are also mostly made from scratch. Some dishes include blue pea flower rice/beehoon, bitter gourd salad and curry chicken.
b. Fun Dining: Food, Art, Music Fiesta hosted by Rose and Chris
In just 2.5 hours, guests are able to enjoy good food, music and art! Have a sumptuous meal with accompanying music by Chris as he performs on the carnatic flute and tabla. You will get to try food such as Chicken Paratel (dry chicken curry), Spanish meatballs and even Claypot curries while admiring the couple's antiques and artwork collection.
c. Cultural Cooking Workshop hosted by Daniel
The workshop is hosted by a group of stay-at-home mothers and active seniors who are enthusiastic about sharing their personal recipes. Participants learn how to cook local delights and thereafter enjoy their fruits of labour which is a 3-course local meal. The workshop whips out different meals every day from Monday to Friday.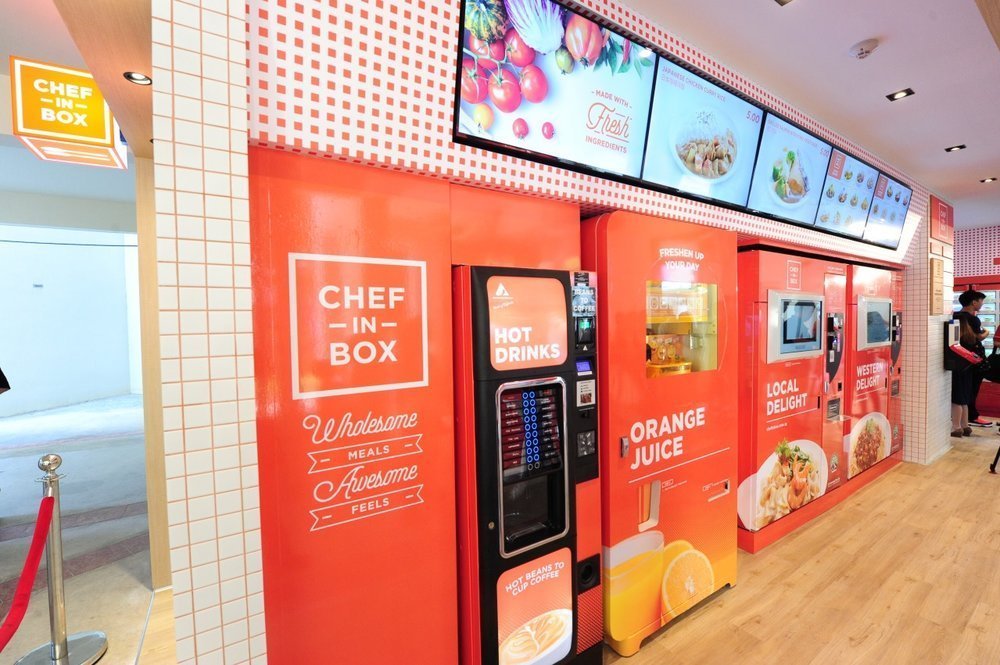 2. Chef-In-Box Vendcafe
You have heard of dog cafes and book cafes. Did you know, there are even vending machine cafes? Chef-In-Box Vendcafe has three outlets located in heartlands and two in MRT stations. There has been a lot of hype as people rave about the new vending machine cafes (or Vendcafes). Unlike convenience stores such 7-11 or Cheers, Vendcafes offer a large variety of food (both local and international) that are hot, delicious and affordable.
Available main courses range from local delights like Hainanese Chicken Rice to Western cuisines like Seafood Paella to Malay, Indian and even Japanese cuisines. Other than the main course itself, the Vendcafes also carry vending machines selling drinks, snacks and even desserts such as Cheng Tng and Mango Sago! As a bonus perk: food from the Vendcafes do not contain any added preservatives, additives or artificial flavourings. Most importantly, the "grab and go" concept of Vendcafes suits today's hectic world where purchases are easy and convenient.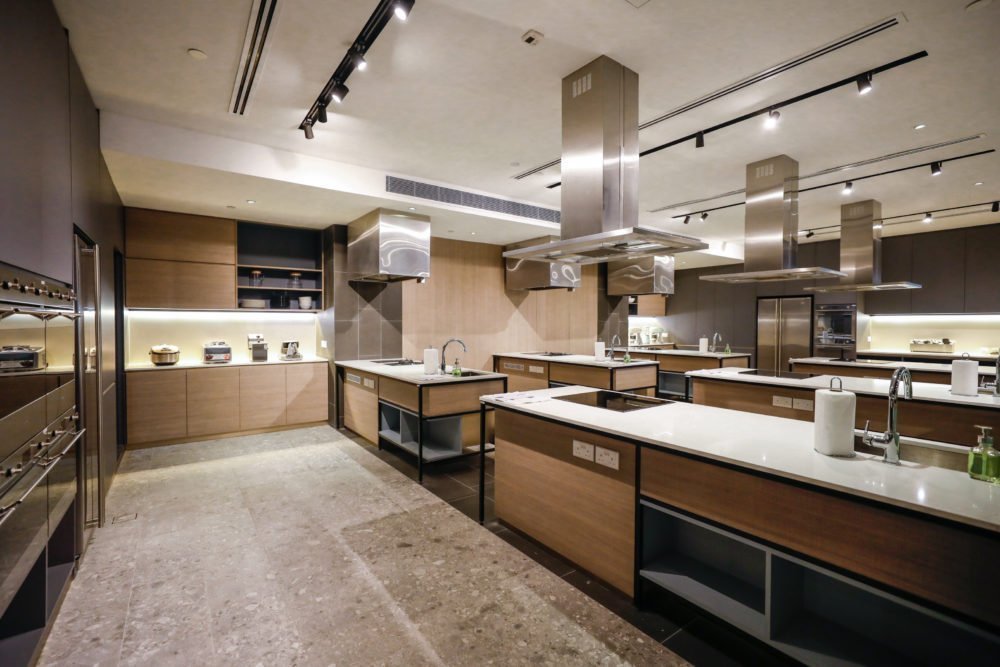 3. OUE Social Kitchen
A new concept in town where people can rent a professionally-equipped kitchen, cook up with friends or family and best of all, not worry about cleaning up the aftermath at all! OUE Social Kitchen is a 4,000 sq ft kitchen at Downtown Gallery in Shenton Way that features six standard kitchen stations, two halal friendly kitchen stations and two VIP rooms which are for rental by the hour.
While condiments and kitchen equipment are provided, clients may bring their own ingredients and store them in the chilled lockers that are also available for rent. An in-house chef and staff will also be there to help should you require any assistance.
It is an ideal place for not only friends and families but also corporations to hold team building activities. The social experience enables people to bond over a universal common love — food. For larger-scale events, extra amenities such as a back kitchen and even a bar where staff will be there to receive orders for beverages are available too!
4. OUE Re:Store
OUE Re:Store is located on the third level of Downtown Gallery and carries similar concept as SingPost's POPStations. However, instead of parcels, OUE Re:Store does it with food.
Consumers place their food order via the Downtown Gallery app, select their collection time, make e-payment and then collect their order from a numbered vault in the store when it's time. After collection, customers could head to the 5,000 sq ft dining area (which is also open to the public) on the second level to enjoy their meal.
There is zero human interaction involved and as the entire process is digital, it is quick and convenient. This eliminates the woes of most office workers who only have an hour of lunchtime but still have to brave the long snaking queues and not to mention, battle for seats.
With over 20 different affordable dishes ranging between $8 and $12, you could have a hearty meal as the dishes are created by renowned chefs from Asia including KF Seetoh, Malcolm Lee, William Wongso and Sau del Rosario. In addition, the pre-packed bento are prepared directly from a central kitchen and are not frozen.